Garden with Insight v1.0 Help: standard deviation

The standard deviation of a frequency distribution is a measure of how spread out the distribution is. In the example below, the two distributions have the same mean (0.5), but the higher peaked distribution has a smaller standard deviation.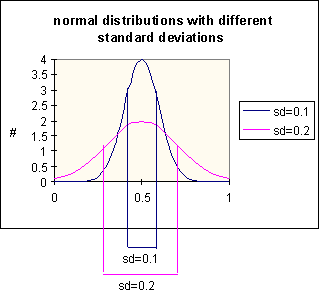 In a normal distribution, the area under the curve between X values one standard deviation below and above the mean represents about 68% of the area under the whole distribution, which means that about 68% of the total variation is within those bounds. This makes it a good way to compare different distributions by the amount of variation.
This simulation uses standard deviations with all its normal distributions. Some are parameters (such as the long-term standard deviations of minimum and maximum temperature for a climate). Some others are held constant because they are assumed not to vary very much.