Garden with Insight
Download it
Info
Introduction
Features
Requirements
Screen shots
Help system
Source code
License
Background
About GWI
Why free?
Book proposal
NSF proposal
Feedback
Community
Newsgroups
Links
Support
FAQ
Tech support
Garden with Insight Browser

---
The browser is a tool for examining the simulation in detail. The browser has two sides. The numbers side shows you the numbers in the simulation very simply as numbers with units on a sliding gauge. The pictures side shows the same information, but arranged in ways that are more visual and easier to understand. For the weather, you can see running graphs of temperature, humidity, precipitation, radiation, day length, and wind speed. For the soil, you can see a soil profile with soil color, temperature, pH, nitrogen, phosphorus, soil materials, or plant roots. For a plant, you can see a close-up look at the plant, a breakdown of plant biomass in various plant parts (such as leaves and fruits), or the stresses on the plant's growth.
Groups help to manage the complexity of the over 800 aspects in the simulation. You can create your own groups. You can also use the browser to harvest fruits from a plant, create your own plant cultivars (varieties), soil types, and climates, and change many of simulation values.
To learn more about the browser, click here.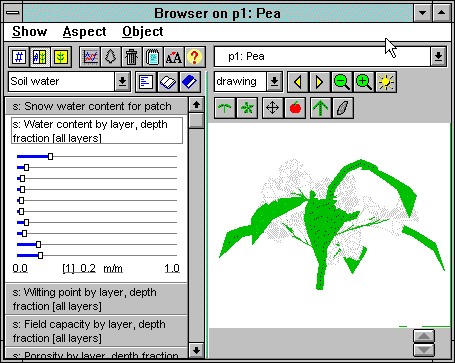 The browser